Der erhobene Zeigefinger
By Jetse Batelaan / TG Max.
Repertoire
Length: 1 hour, 45 minutes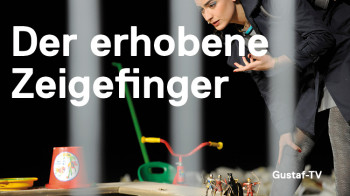 Stücktrailer: Der erhobene Zeigefinger
Content
Adults keep on telling children what they can and can't do, what is right and what is wrong. But how do adults behave? Do they always do what is right? Do they always do as they say? Jetse Batelaan's entertaining play puts five adults in a children's playground and lets us see what happens. Suitable for audiences aged 10 and over.
to the top
Junges Schauspielhaus – Münsterstraße 446
Premiere
12. February, 16.00h

Previous performances
28. November, 11.00h
22. June, 10.00h
21. June, 10.00h
20. June, 18.00h
7. May, 10.00h
6. May, 16.00h
24. April, 10.00h
16. April, 10.00h
14. April, 16.00h
8. April, 16.00h
8. March, 10.00h
7. March, 10.00h
6. March, 10.00h
28. February, 10.00h
27. February, 10.00h
26. February, 16.00h
15. February, 11.00h
12. February, 16.00h